Marriott International says the data breach it disclosed in November 2018 has cost the company $28 million in expenses in the fourth quarter. Virtual Payments can alleviate the headaches for Corporate Travel Departments (CTD) when a Hotelier experiences a data breach. With Virtual Payments, security and efficiency are primary objectives. Designed with user efficiency in mind, GraspPAY is a virtual card program that increases profitability by eliminating transaction cost. It removes many of the cumbersome steps involved in a traditional virtual card and point of sale environment. GraspPAY makes Virtual Payments easy by integrating seamlessly with a travel agent or travel manager's booking flow in the GDS or booking tool. As a result, GraspPAY works to secure and manage payment for the client while they keep the same workflow for making bookings in their business.
How Does GraspPAY Work?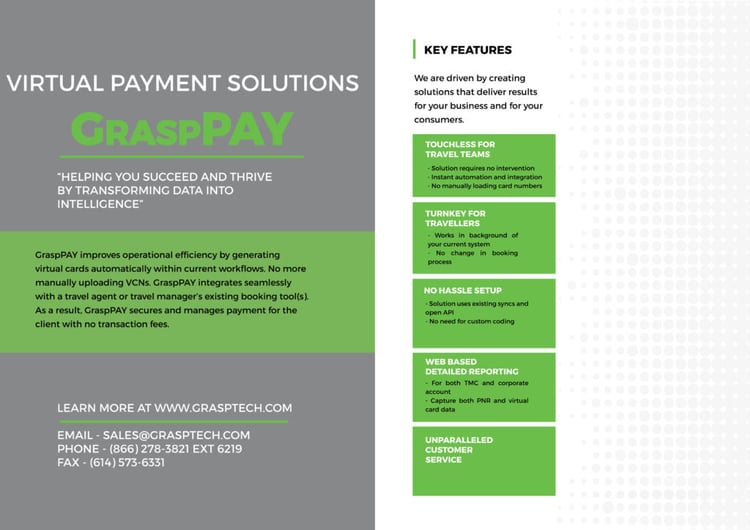 The entire GraspPAY process consists of 6 steps:
Traveler contacts the TMC or books through the online booking tool for an air and/or hotel reservation.
GraspPAY requests the virtual card and sends it to the point of sale.
Supplier receives Virtual Card as payment.
Supplier processes payment and receives an automated fax or email. Traveler receives email of the fax and details.
Supplier charges the card and is paid through the existing payment gateway.
All of the transactional data is available for reporting and reconciliation in the GraspPAY Business Intelligence Portal.
A Fully Equipped Virtual Payment System
On August 1st 2019, Grasp Technologies announced the release of GraspPAY for guest and non-employee travel. With this addition, Corporate Travel Departments will be able to use a range of service options all fully integrated within the GraspPAY virtual payments system. A virtual card program is more secure, more efficient, lowers overall costs and it can strengthen vendor/supplier relationships.
If you would like to schedule a meeting to discuss GraspPAY and what it can do for you, please email sales@grasptech.com.

Email This Post