Whether your business is an emerging technology company or a Fortune 500 business, data management is a necessity. Where data used to be unrefined, it can now be shaped and used to fit your company's missions and goals.
For the Emerging Technology Company
Lets say it is your mission is to provide predictive analysis of consumer buying trends.
The biggest challenge is how to securely get the data from all of the different sources needed to create a viable product. Additionally, you must consider whether it made sense to build versus buy software to handle the data collection.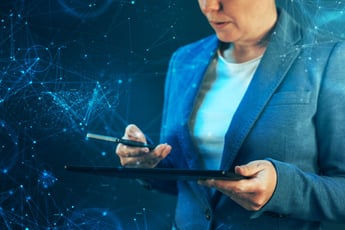 First, lets take a look at a build option. Any software you will need to build would come at a cost of over $1 million. Even more important is that even if you did build the software, there's still a lack of knowledge and expertise in management, collection and consolidation data from diverse data sources. It is too expensive to recruit, manage, and maintain the level of expertise needed in house. It would also take a large amount of time (years) to create the technology.
Here at Grasp Technologies, we use our GraspSECURECONNECT and secure file transfer (SFTP) products and process to fulfill this very important technological role. It becomes much easier to consolidate data from over 600 different, disparate sources.
Along with using the GraspSECURECONNECT software, the staff at Grasp Technologies also helps to develop numerous standards for data submission, data cleansing, and validation. This can lead to saving millions of dollars in development and staffing costs.
For the Fortune 500 Business
You're a Fortune 500 global consumer company with thousands of employees in over 40 Countries.
The biggest challenge is inaccurate and incomplete data from a 3rd party data consolidator. Your company also requires the ability to configure dashboards and reports as needed and to be able to quickly and effectively build on-demand reports.
Given that your business' key travel department employees were relatively new in their respective positions, you also require a company with a strong customer service philosophy and a reporting solution that was easy to adopt and use.
With GraspSECURECONNECT and secure file transfer (SFTP) products and process, you can fulfill the need to consolidate and report on global data from over 40 Countries.
With the Grasp Technologies Monthly Customer Service option, you will have a dedicated account manager available for a certain number of hours each month to answer questions, review reports and help analyze information.

Email This Post